Russia jet carrying 71 people crashes after Moscow take-off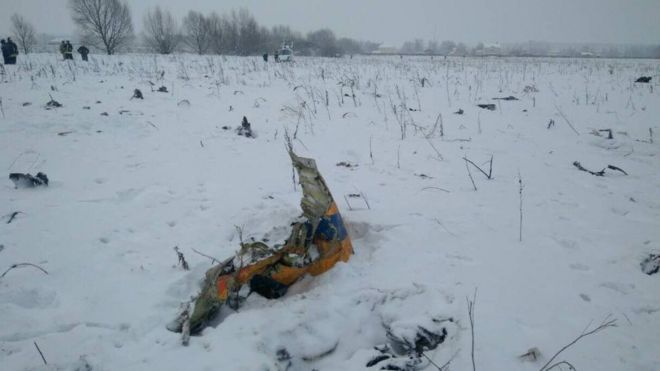 A Russian passenger plane has crashed after leaving Moscow's Domodedovo airport with 71 people on board.
The Saratov Airlines jet vanished minutes after take-off and crashed near the village of Argunovo, about 80km (50 miles) south-east of Moscow.
All those on board are thought to have died, officials told Russian media.
The An-148 was en route to the city of Orsk in the Urals, near Russia's border with Kazakhstan. It crashed early in the afternoon local time.
Those on board included 65 passengers and six crew. President Vladimir Putin has expressed his condolences to the victims' families and announced an investigation into the cause of the crash.
Pictures from the site show pieces of wreckage in a snow-covered field. Tass news agency quotes an official as saying bodies were found nearby.
Flight-tracking site Flightradar24 tweets that the aircraft was descending at 1,000m (3,300ft) per minute (60km/h, 38mph) five minutes after taking off.
http://www.bbc.co.uk/news/world-europe-43024235