French police have shot dead the man who attacked Strasbourg's Christmas market on Tuesday, the interior minister has said.
A police unit came across Cherif Chekatt in a Strasbourg street and shot him after he opened fire.
Three people have died following the shooting at the market and several more were seriously injured.
Chekatt, 29, had a string of criminal convictions in France and Germany and had become a radical Islamist in jail.
How was Chekatt found?
Interior Minister Christophe Castaner said three members of the National Police saw a suspicious individual on rue du Lazaret, in the Neudorf area of Strasbourg at 21:00 local time (20:00 GMT).
The officers stopped the man, who turned round and fired on the police. They fired back and "neutralised" the attacker, said Mr Castaner, who later went to the scene.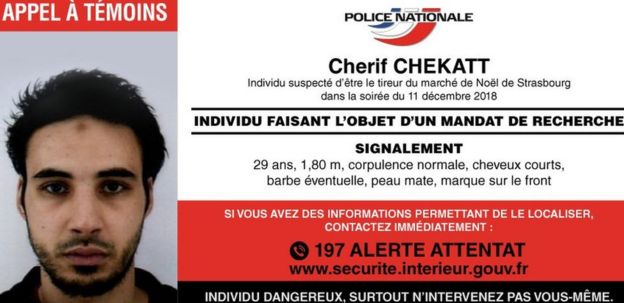 Hundreds of French police and security forces had been searching for Chekatt.
A large police operation had taken place in Neudorf earlier on Thursday, but ended apparently without results.
Five people have been arrested in connection with the attack. They include Cherif Chekatt's parents and two of his brothers.
Strasbourg mayor Roland Ries said that finding Chekatt meant the worried people of his city would now be able to return to a normal life.